WisdomTree launches different take on biotech
WisdomTree has launched a new take on biotech, offering more breadth.
The WisdomTree BioRevolution UCITS ETF (WDNA) will invest in global companies bringing biotech innovation to engineering, and agriculture—not just healthcare. While biotech can be used in many ways – to produce better crops through GMO, biomimicry making better building materials, producing biofuels, etc. – biotech ETFs to date have almost always focussed on US-listed drug makers.
WDNA will use a tiered weighting system, like other thematic ETFs. As part of this, WisdomTree has divided biotech into several sub themes, with each getting different weights. (Pictured below).
The biggest sub-theme is genetics, with gene therapies companies taking 55% of the fund. It will also invest heavily in vaccine makers, which get 9% of the fund; GMO companies, which get 8%; and most interesting in biofuels companies, which can take 6%.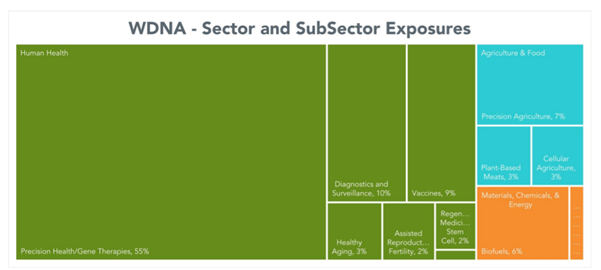 To maintain this quasi-active index, an index committee with final say on which stocks get in the index will meet once a quarter. WisdomTree has also recruited help from Jamie Metzl, a futurist writer and Biden adviser, in determining the sub-themes.
WDNA will be equally weighted and charge 0.45%.
Bernie's commentary – there's a lot to say
I have a fair amount of experience with biotech ETFs. I have invested in them myself, among other things. So the points from me:
I like the idea of moving biotech beyond US drug makers. However, the portfolio data says this fund is still 80% healthcare and 80% US.
What credentials does Jamie Metzl have? Biotech is hyper-specialised and getting in the weeds requires genius IQ. Is this guy such a person? Wikipedia bills him as a "geopolitical commentator". His Ph.D. is in South Asian history.
How will the performance compare with State Street's XBI? XBI has hit it rough this year as Biden curbs healthcare M&A and drug pricing. But one feels the market is bottoming out.
The weighting system this fund uses is awfully complicated. Why not go for something simpler?
Relatedly, is this really just active management via index committee?
What's the appeal with genetics specifically rather than say diagnostics? And are the deaths in clinical trials of gene therapies something that may spook investors?
In all, though, I like this innovation. I particularly like the inclusion of agriculture – that's very promising given the challenges global warming will pose for crop production. There is also less ethical and political issues around editing the genes of plants. This is an interesting new take on an old theme.