Speedread:
The US gets two strange real estate ETFs, one for "triple net REITs", another for home builders
Invesco lists blockchain ETF in Europe
USA
World's first triple net lease ETF
The world's first triple net least ETF is set to come to the US market. The Fundamental Income Net Lease Real Estate ETF (NETL) will be put together with cooperation from three groups: white labeler Exchange Traded Concepts, US Bancorp's broker-dealer group, and a newly made index provider, the Arizona-based Fundamental Income Solutions. The index provider was formed in 2018 and is headed up by a man named Alexi Panagiotakopoulos, the prospectus indicates.
NETL will invest in triple net lease REITs. Triple nets – David and I had never heard of them – appear to be uniquely American. They are where the tenant is required to pay the rent of a property, as well as every other cost of owning the property: land tax, property maintenance and insurance. This means that these types of REITs – which make up only a small minority of NAREITs – tend to charge less. They also like higher quality tenants.
Fee information was not included in the prospectus.
Homebuilding ETF from Hoya
Hoya Capital, a Connecticut-based advisor specializing in real estate investing, is listing an ETF that will attempt to track the full gamut of the US real estate and home-ownership industries. The Hoya Capital Housing 100 ETF (HOMZ) will track an index from Hoya. Hoya provide a helpful table explaining how their index works in the prospectus.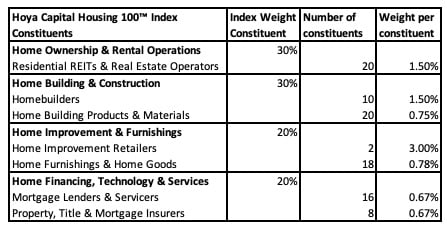 London
Invesco's chip off the old blockchain
Invesco has partnered with investment firm Elwood Asset Management for the launch of its latest ETF, offering exposure to digital assets and blockchain.
The Invesco Elwood Global Blockchain UCITS ETF (BCHN) will list on the London Stock Exchange with an ongoing charge of 0.65%.
BCHN is made of companies that profit from blockchain. Tracking the performance of the Elwood Blockchain Global Equity Index, BCHN will offer exposure to several sectors and geographies such as information technology, financials and communication services across the US, Japan and Taiwan.
---