Competitor Solana ETP in the Nordics
Valour, the Swiss crypto ETP issuer, has launched a Solana cryptocurrency ETP in Scandinavia.
It is the second Solana ETP to list on European exchanges after 21Shares pioneered the effort three months ago. The Valour Solana (SOL) SEK ETP will trade on the Nordic Growth Market stock exchange which is based in Sweden. The 21Shares Solana ETP (ASOL) has currently collected $100M in assets.
Solana is one of the largest cryptocurrencies, currently ranking seventh based on market cap according to Coinbase. It is sometimes regarded as a rival to Ethereum as it also offers smart contracts.
The primary difference between the two is that Solana uses a more environmentally-friendly proof-of-stake system, whereas Ethereum uses the more carbon-intensive proof-of-work. Solana can also process contracts faster.
In 2021, we have witnessed an environmental rally of sorts within cryptocurrencies. The more energy efficient cryptos – like Solana and Cardano – have strongly outperformed.
Ethereum sees the threat and has started creating "Ethereum 2.0", which uses a proof-of-stake system as well.
SOL charges 1.9%.
Bernie's commentary – who needs inflows when you have 400% return in two months?
There are two ways for ETFs to grow their AUM: inflows and performance. ETF issuers tend to focus on inflows in my experience. They figure performance is out of their control, whereas inflows are controllable with sales, marketing and product development.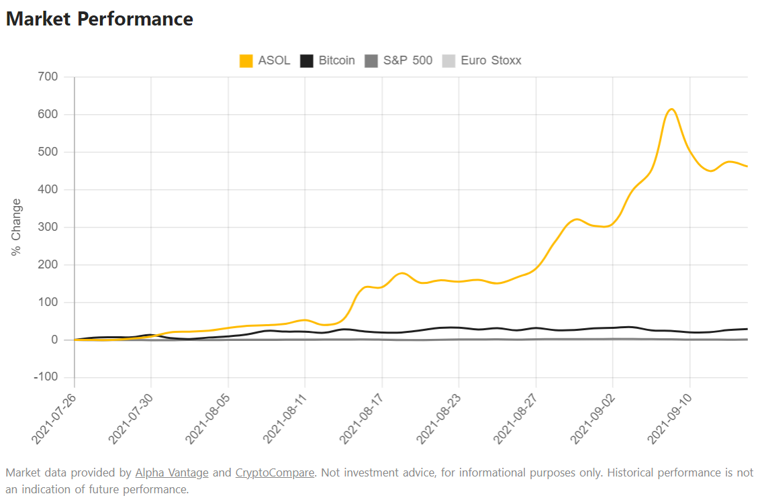 But Solana to me poses an interesting thought experiment: what if your ETP performs so well that inflows don't matter? Can you just grow your AUM on performance alone? This matters for today's listing as 21Shares ASOL is up 460% the past few months. Meaning that some of its AUM – but by no means all of it – will have come from performance.
Commodity ETPs offer precedent. The Xtrackers Physical Rhodium ETC (XRH0) generated a ridiculous 3,000% return in four years and ballooned its AUM to $130M as of March 2021. And did so despite issuing no new units from 2016, and despite Xtrackers never really marketing or selling it.
Who needs flows when you have stupendous performance?
The rally also has strategic implications, which I think may strengthen 21Shares hand. As ASOL has rallied strongly, its AUM should be "sticky" as investors selling out will incur capital gains taxes. Meaning that I don't believe Valour's new competitor SOL will take assets directly from ASOL. It will also have the performance history, which investors love looking at when picking products.
Nonetheless, SOL is slightly cheaper on a 1.9% expense ratio And ASOL and SOL trade in very different countries. And maybe they can both succeed at the same time.
I just think these crypto products that take into environmental impact have a great opportunity