Summary:
Ossiam lists Europe's first machine learning ESG ETF
The listing will enhance Ossiam's reputation as a provider of cutting-edge products
ESG was the defining trend of 2018. Machine learning and robotics was the other. But this new ETF from Ossiam, the Paris-based smart beta specialist, rolls both trends into one.
Ossiam, subsidiary of the French investment bank Natixis, is listing Europe's first machine learning ESG ETF in Germany and Paris. The Ossiam World ESG Machine Learning UCITS ETF is an open-end UCITS (OWLU, OWLE) will be actively managed and track a basket of equities from developed markets.
The machine learning component of the ETF will be used to screen companies for ESG compliance, but also for investment opportunities. Like other cutting-edge European smart beta ETFs – i.e. Vanguard's – a layer of active management will oversee the algorithms in order to guide stock picking.
The listing follows hot on the heels of Ossiam's hiring ESG talent earlier this year. And will doubtless add to Ossiam's reputation for building cutting-edge products.
Ossiam declined to comment.
Analysis – the French and the English
The French and the English see each other differently.
To the French, the English have low skies and lower expectations, a stiff upper lip and a love of muddling through. While the Englishmen doesn't like to make plans (Google: "wing it"), he'll rarely hesitate to whinge when things go wrong. To the English, the French make things complicated for no good reason. They're showy, and when they're not being pretentious, they busy themselves being rude.
Which brings us to Ossiam.
Ossiam has built a reputation for making complicated ETFs – in fitting with the stereotype. And today's machine learning + ESG + active management may indeed seem slightly complicated.
Yet before rushing to judgement, it can help to recall that Ossiam's other complicated ETFs actually tend to work.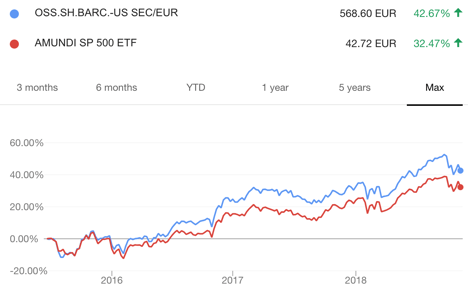 Their most popular European ETF, the Ossiam Shiller Barclays Cape US Sector Value TR ETF (CAPU:FP), uses the Nobel laureate Robert Schiller's CAPE measure of value to pick sectors of the US economy to invest in. And guess what: it's beaten its benchmark, the euro-denominated total return S&P 500 index, since inception.
While their third most popular, the Ossiam STOXX Europe 600 Equal Weight NR UCITS ETF, which equally weights the Stoxx Europe 600 index, has beaten its benchmark too.
It's too early to say how today's listing will perform. But if Ossiam's other products are anything to judge by, the French pointy-headedness may just work.
---