Proshares launches metaverse ETF
Leveraged and inverse ETF specialist ProShares is adding to the ballooning global stockpile of metaverse ETFs, with the launch of its own fund yesterday.
The ProShares Metaverse ETF (VERS) tracks the Solactive Metaverse Theme Index.
To qualify in the index, companies must make at least 50% of their revenue from "metaverse-related business operations". These business operations are defined extremely broadly to include any kind of metaverse technology, platforms, or data processing.
Companies are identified by keyword searches on their filings and other public documents. They are scored based on the number of keyword hits, with the top 40 companies by score included.
Companies are weighted using a modified equal-weight approach. Companies with higher scores get more weight. The ten largest companies by market cap also get more weight.
Only US-listed companies are eligible. The fund charges 0.58%. The top holdings are below.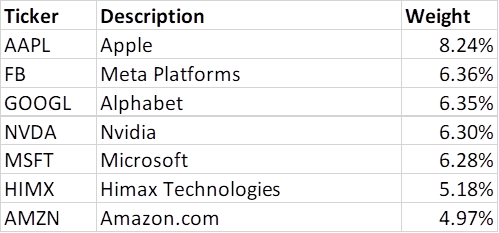 Bernie's commentary – Just a Nasdaq 100 ETF. But is the approach justified?
Metaverse ETFs are coming out in ever greater number. And from what we've seen around the world they truly are a mixed bag. Some, like today's, are just overpriced Nasdaq 100 ETFs.
They take the view that the metaverse, much like other technology themes (cloud computing, artificial intelligence, etc.), will have its gains devoured by the FANGs. Others have much higher active share.
There's certainly some basis for just buying the FANGs. The FANGs have huge cash piles. In a market downturn – like the one we're in – they are well placed to scoop up profitless innovative metaverse companies. This means that even if Facebook is no-one's idea of an innovative company (Zuckerberg took the idea for social media from the Wincklevoss brothers, he then acquired Instagram and Whatsapp) it still has the balance sheet to muscle its way in.
The FANGs also have huge R&D budgets and have made high-level public commitments to the theme. Meaning that they can research and build a lot of the future metaverse technology (VR headsets, AR glasses, etc.) internally, and their CEOs sit behind the efforts.
The downside to this approach of course is that investors can just buy the FANG stocks themselves. Or alternatively they can just buy a FANG ETF or the Nasdaq 100. Which I think cuts to the core problem of this launch: investors are going to look at this fund and ask: why should I pay 0.58% for this?
The final aspect that I take issue with is the commercial strategy. 0.58% seems like a very strange fee, doesn't it? Until you realise that the Roundhill Ball Metaverse ETF (METV) charges 0.59%.
So the objective of this ETF is too under price and outmuscle the incumbent, which is run by a small ETF provider, by 1 basis point. Adding to that, the fund holdings are very similar—so this isn't a new interpretation on the theme.