The New Zealand government has become an unlikely winner of BlackRock's push into ethical investing.
Thanks to strong investor uptake of BlackRock's green energy ETFs, New Zealand power companies, which are majority owned by the Kiwi government, have seen their share prices surge.
Meridian Energy – the country's largest electricity generator – saw its share price jump 70% over the Christmas period. (It has tapered off slightly in recent days).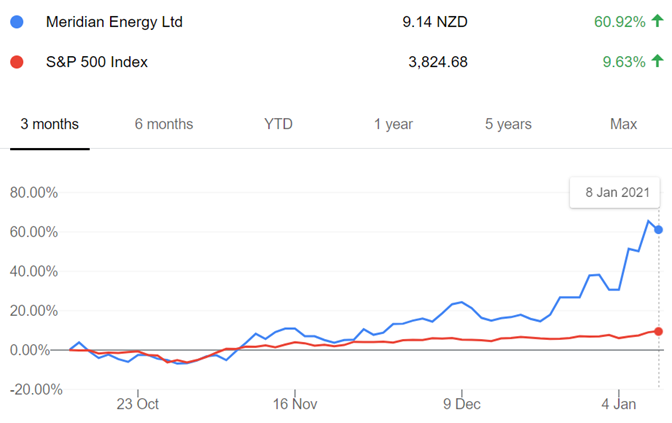 The rally, which caught many shareholders by surprise, owed to inflows into two BlackRock's renewable energy ETFs: the Nasdaq-listed iShares Global Clean Energy ETF (ICLN) and its UK-listed twin, the iShares Global Clean Energy UCITS ETF (INRG). Both funds have attracted billions in new money since Joe Biden's election win.
| | | | |
| --- | --- | --- | --- |
| TICKER | AUM (USD) | Notional Meridian | Wght (%) |
| ICLN | $6,216,535,901 | $350,837,132.02 | 5.39 |
| INRG | $6,606,490,711 | $371,717,974.49 | 5.43 |
According to a notice BlackRock filed with the New Zealand Exchange before Christmas, the country's share market operator, BlackRock now owns more than 6% of Meridian's float – up more than 1% from November, BlackRock indicated.
Meridian generates electricity through solar, hydro and wind power. It does not use any fossil fuels. This makes it a nice fit for INRG and ICLN, which offer investors exposure to leading renewable energy companies around the world. Meridian is the third largest holding in both ETFs.
Like most government-owned companies, Meridian's share price usually moves around less than privately-owned companies. Which makes recent sharp share price movements - such as its 16% jump on 5 January - irregular. Meridian saw no major changes in its earnings, revenue or news flow over the period.
The rally stuck Meridian on a peak price-to-earnings ratios of 130 – a level usually reserved for fast-growing technology companies like Amazon and Netflix.
The company's nearest competitor, Mercury Energy, also saw its share price rise over the period—but to a lesser extent. Mercury is included in fewer ETFs, data from Ultumus indicates.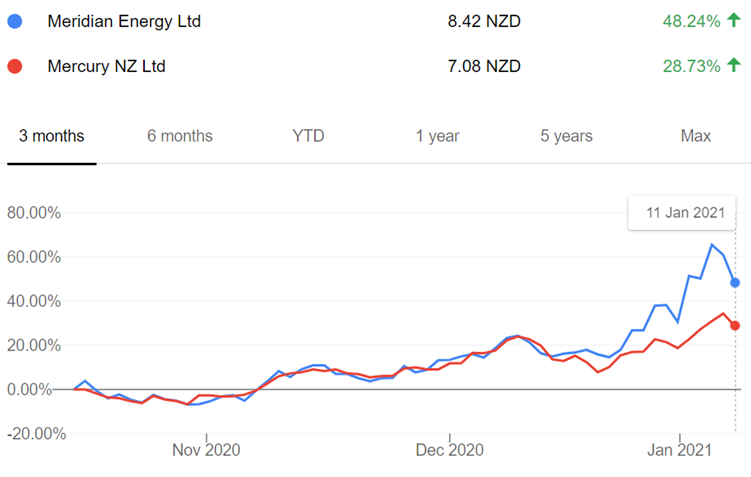 The rally highlights the power of BlackRock and focussed ETF generally to influence small cap stocks.
In 2019, large flows into the iShares global dividend ETF (IDV) caused a 12% surge in Australian financials company Prudential.